With nearly 2 million annual visitors, one constant has remained from the early days of the Laughlin vacation experience: Almost every visitor makes time to mingle with the Colorado River. River experiences in Laughlin can range from low-key affairs to those that may push adrenaline limits. Here's how Laughlin offers serious water fun, regardless of whether you're a thrill-seeker or prefer to watch from afar.
Need for speed
Jet skis, Wave Runners, Sea-Doos – they're all available. Several area rental companies offer great customer service, top-notch equipment, and excellent safety instruction.
For those wanting to stay close to the resorts and casinos, Rocky River Adventure Center operates out of the Aquarius Resort Casino boat launch and Watercraft Adventures offers a wide range of rentals at Harrah's Laughlin, Riverside Resort and the Edgewater Hotel.
Most rental companies offer weekday specials and online reviewers highly recommend these three businesses for offering quality equipment and not wasting your hard-earned dollars on unexpected add-ons and extra fees.
Tour it!
If you want a relaxing cruise with narration informing you of the region's history, a long journey to the picturesque London Bridge, or to have a party on a boat as the sun sets, it all awaits.
Laughlin River Tours offers Laughlin's only dinner cruise and cocktail charters. Its steamboat "Celebration" has open seating and full-service facilities onboard. Or you can also enjoy a relaxing cruise on the USS Riverside with daily river tours. The boat travels to the Laughlin Bridge to Davis Dam and also has a full-service bar.
The London Bridge Jet Boat Tours covers 58 miles of the Colorado River through the gorgeous Topock Gorge. Jet boats cruise at speeds of 40 miles per hour and there's a 2-hour a layover at the London Bridge in Lake Havasu City, Arizona which is plenty of time for sightseeing, souvenir shopping, and lunch.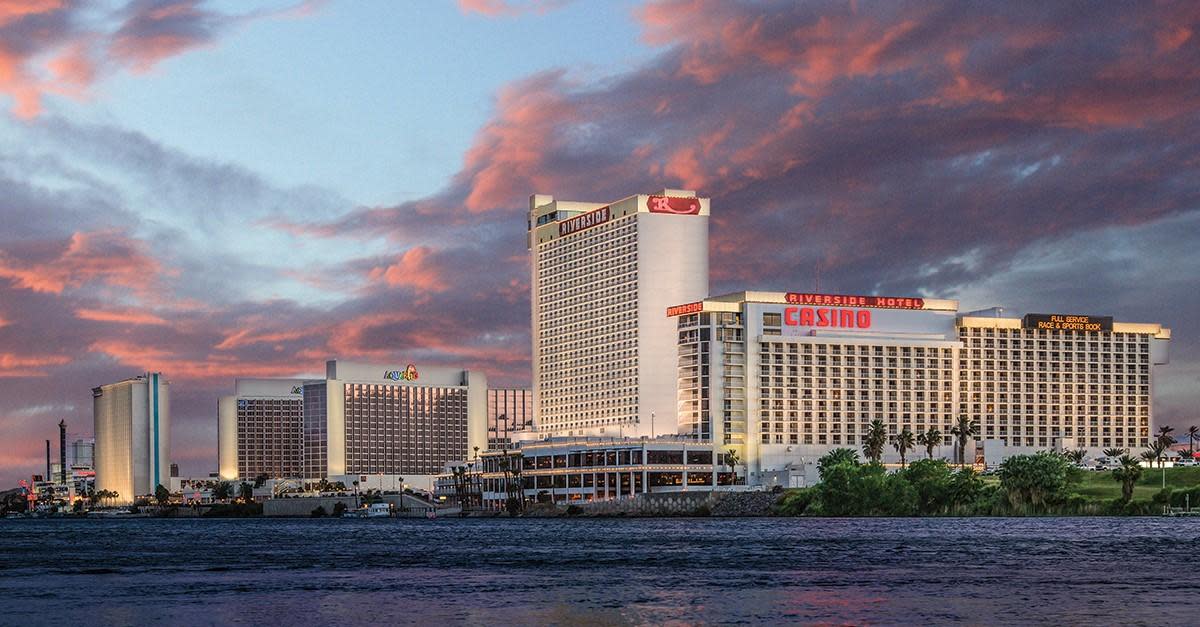 Paddling adventures
Canoes and kayaks bring the perfect opportunity to enjoy the water while exploring the natural environment. Desert River Outfitters offers plenty of paddling enjoyment near historic sites, inside deep canyons, and near picturesque rock formations along the Colorado River. Desert River offers guided tours and outings at Black Canyon, Mohave, and Havasu lakes and tours of the Havasu National Wildlife Refuge.
Jerkwater Canoe & Kayak also offers guided paddling trips and even mini-vacations that can take you to area lakes for a day or overnight stays. The full-service operation can whip up gourmet meals, put together campsite barbecues, pack lunches, and can completely tailor an excursion to your desires.
Unique and different
Nine miles north of Laughlin, Katherine Landing Marina can be found on the Arizona side of Lake Mohave. Home to RV facilities, boat ramps, a restaurant, and general store, Katherine Landing is part of the Lake Mead Recreational Area and also offers rental boats and plenty of fish and duck feeding opportunities.
To learn more about other options for river and water fun in Laughlin, go to our Water Activities page.