Every visit to Laughlin is more than just a chance to get away and relax. You'll find activities, attractions, restaurants and shows galore, and of course, the beauty of the Colorado River as a backdrop.
Check out these things to do in Laughlin that will make it the trip you'll be talking about all year long.
THE LATEST AND GREATEST
Come experience the latest and greatest that Laughlin has to offer, as many of the resorts have implemented exciting changes with more updates in the works. As an ever-evolving destination, Laughlin is proud to bring you the latest and greatest, here's just a few highlights:
SHOWS AND EVENTS
Big names perform here year-round, so make your plans to see one of these upcoming headliners:
The stars are always out – and on stage – in Laughlin!
THINGS TO DO
Get out and explore! With the Colorado River and the surrounding southwest desert, there's no limit to the adventure you can have on your next trip to Laughlin. Here are some activities to check out while you are here.

Water activities
From swimming and riding watercraft to relaxing cruises, there's plenty of things to do in Laughlin!  
Swim and wade through coves and unwind along the 200 miles of Lake Mohave shoreline. Or if fishing is more your style, there's plenty of opportunity to haul in a great catch and enjoy some sunshine while you're at it. If you really want to get around, enjoy a relaxing 6½-hour round-trip cruise to Lake Havasu to see the original London Bridge from Laughlin Jet Boat Tours. Kick up the speed with a waverunner or rent a boat through Laughlin Watercraft Rental. Or, rent a jet ski from Laughlin River Jet Ski Rentals at The New Pioneer (includes safety gear).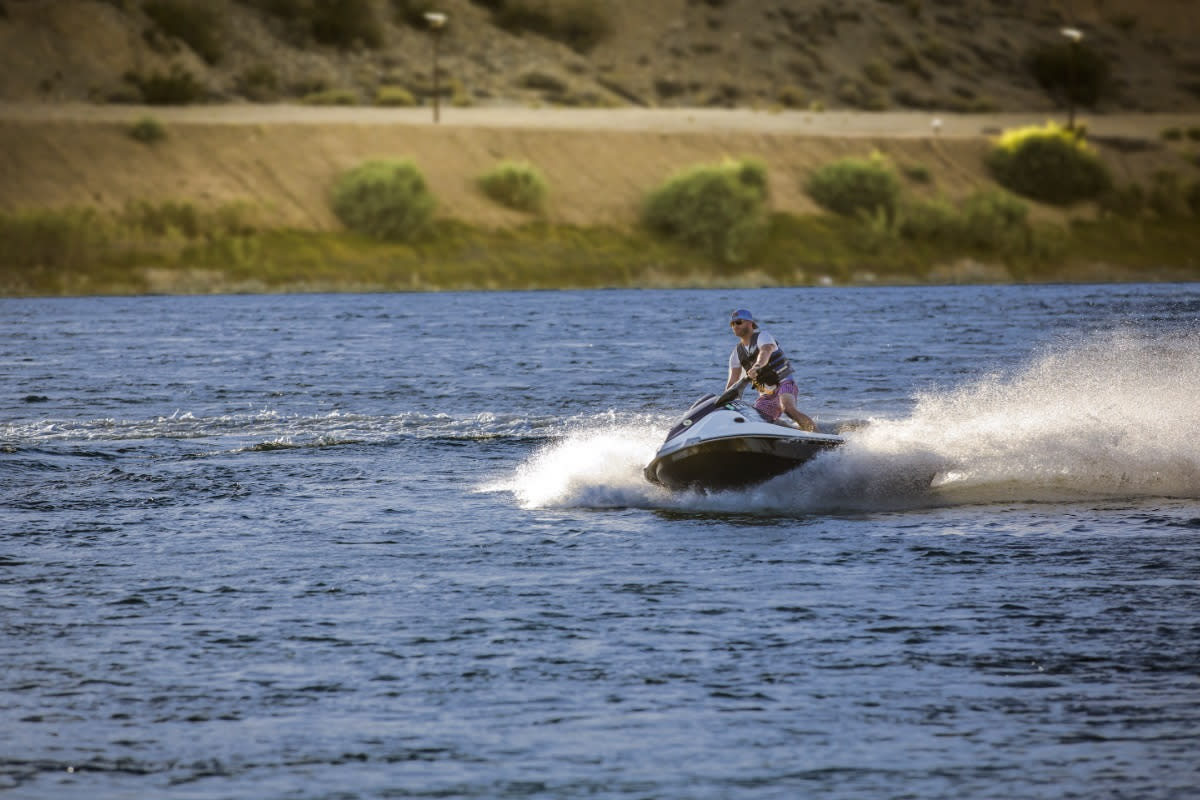 Jet-ski along the Colorado River with Laughlin River Jet Ski Rentals
Outdoor activities
Grab your hiking boots or comfy sneakers because Laughlin is filled with trails for every adventurer.
Take a nice leisurely stroll on the Laughlin Riverwalk, a paved scenic path that can also be used to get from one casino to another, connecting six of the seven resorts along the river.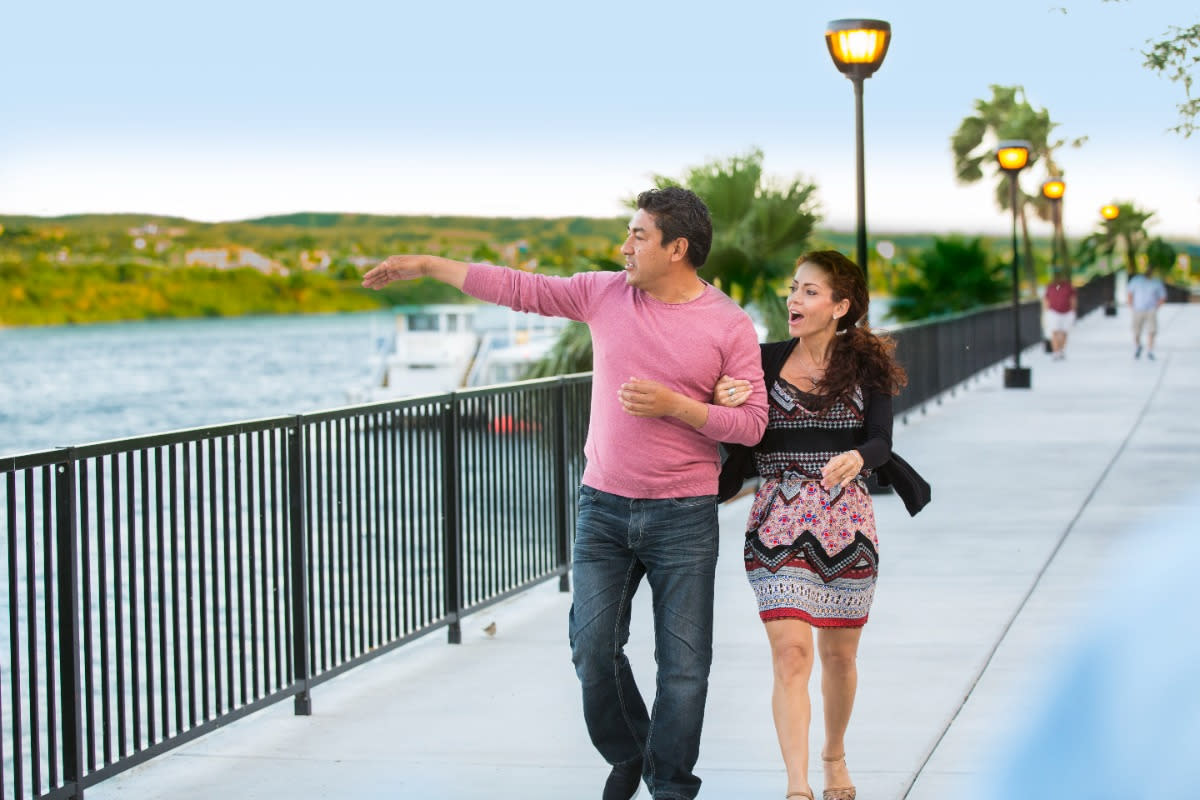 Laughlin Riverwalk
Or go an exhilarating hike at Grapevine Canyon Trailhead or Colorado River Heritage Trail Greenway Park & Trails. You can also wind your way through the Laughlin Labyrinths – nine stone mazes that are both intriguing and energizing. They are said to bring peace and reenergize the soul and known to reduce blood pressure and help with chronic pain and insomnia.
For another relaxing activity, hit the links on one of Laughlin's championship golf courses. Get in a challenging round or two and enjoy the surrounding beauty and nature while you play.
Or for some adventure, hop aboard a UTV rental or take a ride in a Slingshot with 220 Tours. The Mojave Desert is your playground!
Wherever you go, be sure to bring your camera! With more than 300 species of migrating birds, incredible mountain landscapes, and desert flowers in the spring, you're sure to find some picture-perfect photo opportunities.
Indoor activities
Prefer to relax indoors? Laughlin has lots of options for having fun in our fabulous resorts.
For example, you can catch a movie at Riverside Cinema at Don Laughlin's Riverside Resort where you can enjoy state-of-the-art video and sound, luxury reclining seats, and a full-service bar. To relax and unwind from the day's activities, pamper yourself with a massage, facial, or specialty treatment at the Spa at Laughlin Ranch or the Jean Jeffrey The Salon & Day Spa at Don Laughlin's Riverside Resort.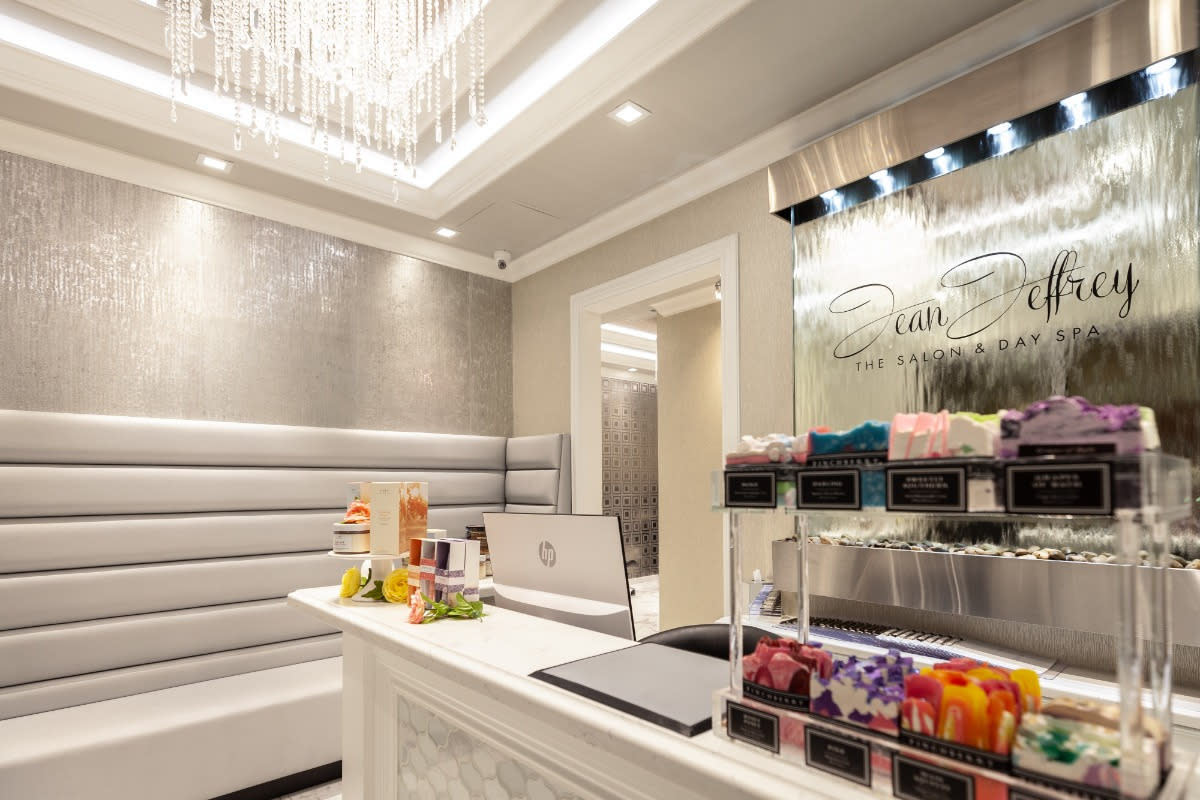 Jean Jeffrey The Salon & Day Spa
Then, try your hand at some gaming inside Caesars Race & Sportsbook and Live Poker Room at Harrah's Laughlin Beach Resort & Casino. Next up, head to William Hill Race & Sports Book at Edgewater Casino Resort for all-day action, high-resolution screens, and the largest sports book in Laughlin. Finally, check out the themed casinos at Laughlin River Lodge and the Poker Room at Don Laughlin's Riverside Resort.
WHERE TO EAT AND GRAB A DRINK
You're sure to work up an appetite in Laughlin. Fortunately, we've got you covered with restaurants for every taste.
For a casual buffet restaurant offering American comfort food, check out Bumbleberry Flats at The New Pioneer. If you're looking for a modern spot for a coffee and/or wine with breakfast options, baked goods, paninis and salads, Duet Coffee & Wine at Aquarius Casino Resort has everything you need. Or, indulge in a full breakfast, lunch and dinner menu featuring classic American cuisine inside Big Horn Café at Laughlin River Lodge.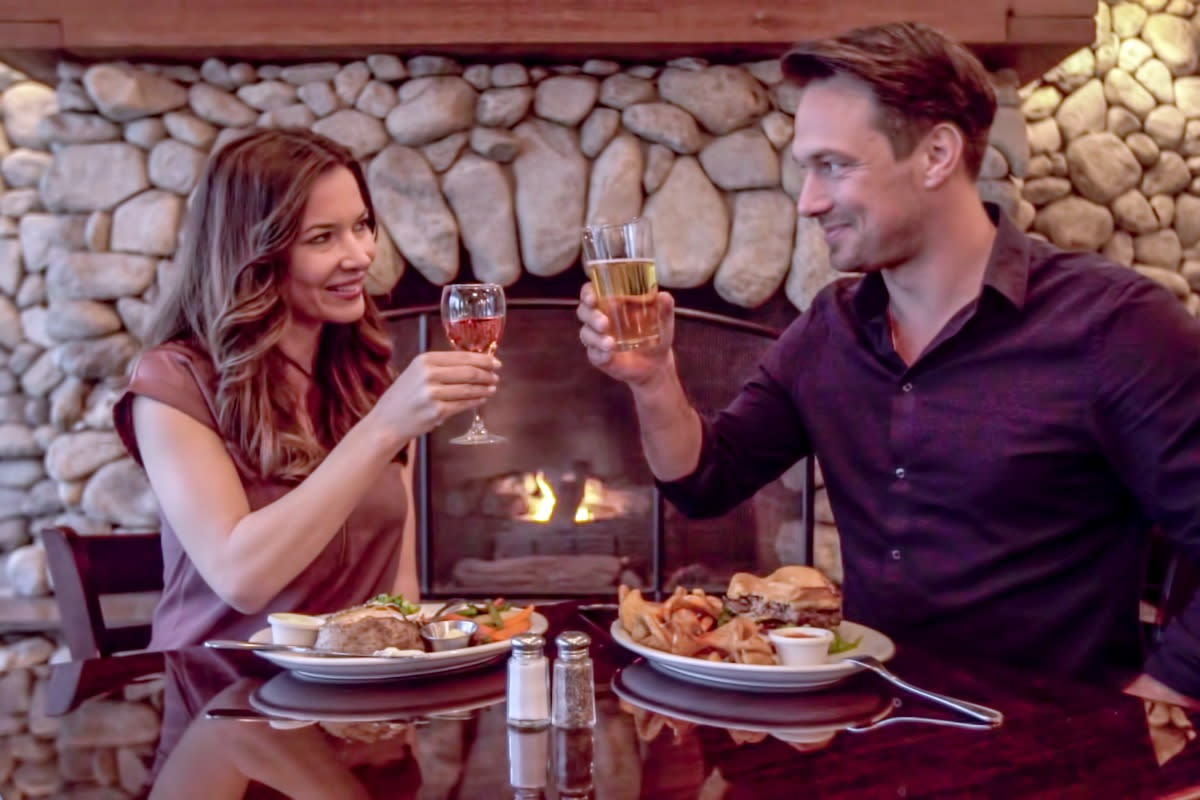 Big Horn Café at Laughlin River Lodge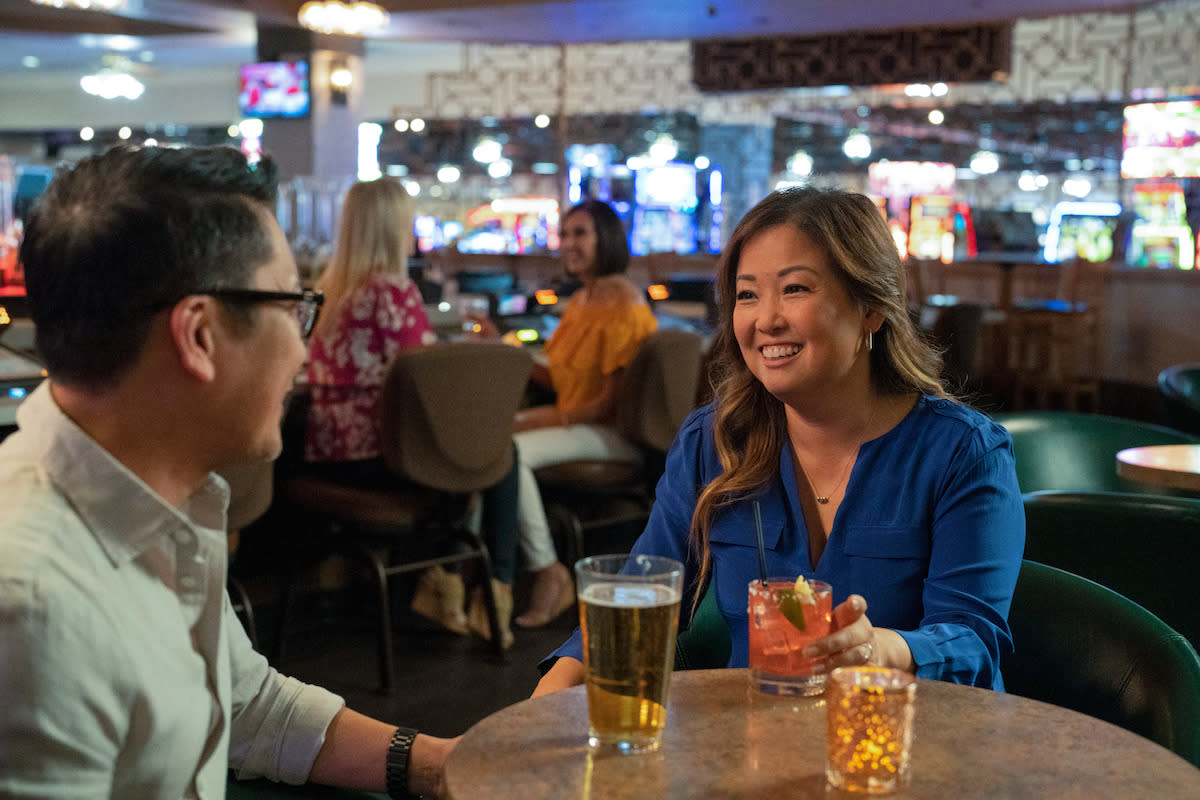 Tango's Lounge at Tropicana Laughlin
Or watch the game on the big screen, or play pool, electronic darts, retro video games and gaming machines inside Blue Lagoon Lounge at Bayshore Inn.
It's all waiting just for you, including these deals! Take the getaway of a lifetime and see how many of these Laughlin events, shows, activities and restaurants you can cross off your list in 2023!