When it comes to Laughlin dining, the destination ranges from a variety of causal offerings and sophisticated steak dinners. Adding to that, nothing makes a meal more enjoyable than a fantastic view of the Colorado River, something you can only find in Laughlin. Here are six great Laughlin restaurant experiences that will make great vacation memories and keep you coming back to this small town with its share of big thrills.
Gourmet Room (at the Riverside): Enjoy a breathtaking view of the Colorado River at this cozy piano bar with gourmet French cuisine. Watch the water taxis stroll by along with your lobster and filet mignon, Coquilles St. Jacques, and other distinctive French dishes. Top it off with Banana's Foster dessert fired up right at the table.
Stockman's Steakhouse (at the Edgewater): Long-time patrons gush about the decadent, sophisticated big-city entrees at a very reasonable price. Freshly-baked bread starts off every meal. Steaks are the specialty, but there's plenty more for those who want other options. Coconut Shrimp, King Crab, seared scallops are all popular menu items as well.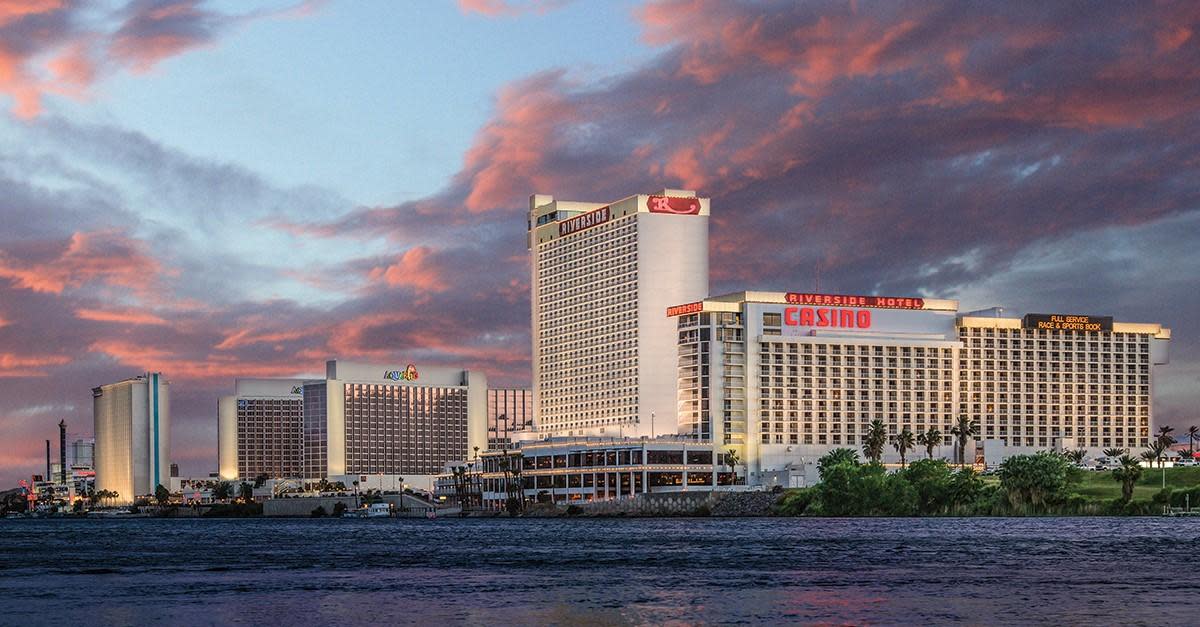 Bumbleberry Flats (at New Pioneer Casino Hotel): Billed as "American Comfort Food," Bumbleberry Flats is a favorite breakfast hangout where you can take in the beautiful Colorado River as you wake up. Bumbleberry is sought out for its pancakes, waffles, and Southern Pecan, Peach Bourbon, and Raspberry Swirl French Toasts. You will leave full with hearty offerings like Steak and Eggs, Prime Rib Hash, Apple Chicken Sausage Benedict, Pulled Pork Pancakes, and a lot of other uniquely American and very filling menu items.
Duet Coffee & Wine (at Aquarius Casino Resort): Open early and late, Duet allows you to enjoy a great glass (or bottle) of wine any time of day or a creative coffee creation, espresso, or cappuccino. Light lunches include panini sandwiches, fruit plates, salads, and breakfasts offer pastries, muffins, and croissants. A modern and open casual environment with free wifi, Duet routinely impresses visitors who learn to not pass it off as a quick-stop café but instead see it as a place with a surprising number of different beverage and food offerings to explore.
To learn more about Laughlin's wide range of dining options, go to our Food & Drink section.