Laughlin is a natural choice for a quick getaway, with its glitzy resorts and the stunning natural beauty of Southern Nevada. If you're looking for things to do in Laughlin, you don't have to look far. The destination boasts countless options for shopping, outdoor recreation, the arts, delectable dining, and exhilarating entertainment options that you'll only find here.
Shop Away
Shop your heart away at the various shopping venues in Laughlin - offering luxury brand names, kids' toys, souvenirs and more.
Ladies on the hunt for a fantastic outfit or accessory should certainly check out Marshall-Rousso at Tropicana Laughlin. The Gift Emporium at Golden Nugget Laughlin has something for every style, including the latest fashions from Michael Kors, Lucky Brand, Quiksilver and more.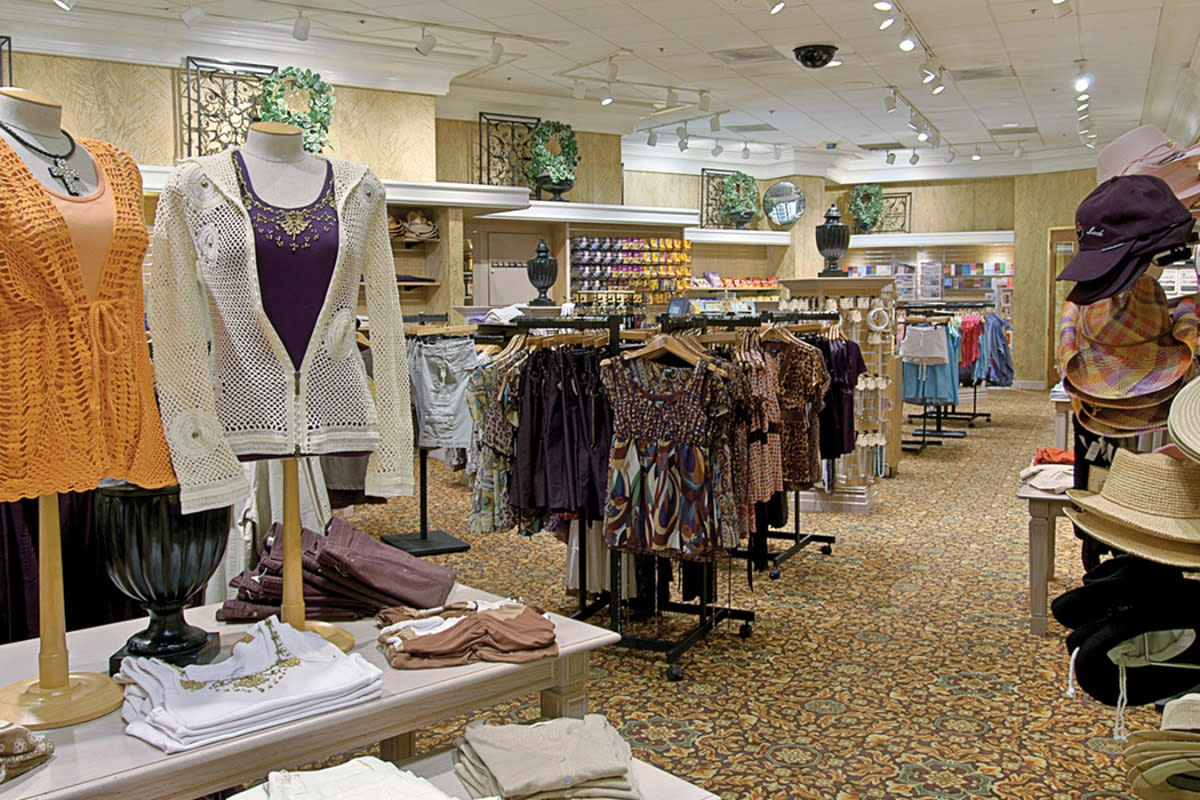 The Gift Emporium at Golden Nugget Laughlin
If you're looking for that perfect Laughlin souvenir, head to The Marketplace at Harrah's Laughlin Beach Resort & Casino, where you'll find keepsakes in addition to snacks, beer and wine. Have a little one? Check out the kid's store-in-store for toys, apparel and more.
Relax at the Spa
A day at the spa will have you feeling rejuvenated — and ready for the rest of your getaway's fun-filled schedule!
Whether you want to work some stress out with a massage or get refreshed with a facial, The Spa at Laughlin Ranch Golf Club and Jean Jeffrey The Salon & Day Spa at Don Laughlin's Riverside Resort Hotel & Casino both have fabulous treatments that will do the trick. These desert sanctuaries offer additional services, from pedicures to hairstyling and more.
Get Outdoors
You're surrounded by the natural beauty of the Mojave Desert — complete with "purple mountain's majesty" in Laughlin — so why not get out and explore?
The Laughlin Riverwalk is a great way to take in the sights of the Colorado River, as the paved trail can be used to travel among six of the seven hotels. If you're an avid hiker, take the Colorado River Heritage Trails, as part of the expansive system parallel the water for over two miles right up to the Davis Dam. Be sure to pack plenty of water!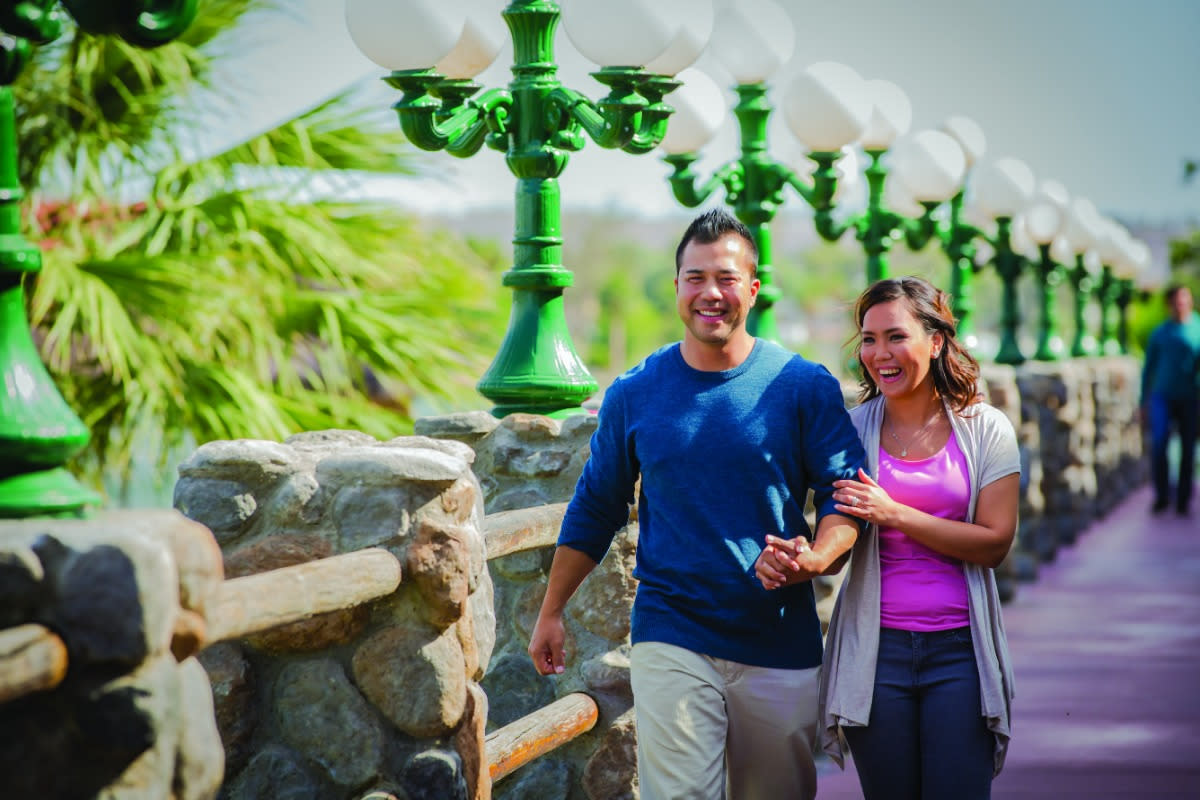 Laughlin River Walk
Speaking of the mighty Colorado, ride the waves on a jet ski through Laughlin Watercraft Rental, or dive right in! Swimming spots can be found at the nearby Lake Mohave, featuring 200 miles of shoreline, intimate coves and wildlife.
Another way to explore the river is by a guided tour. London Bridge Jet Boat Tours will take you to Lake Havasu, Arizona, (home to the original London Bridge) and back. Starting mid-March 2023, you'll also be able to board the Grand Celebration, a 96-foot yacht, with Laughlin River Tours.
Want to stay on land with some speed? Get behind the wheel of the Premium Polaris Slingshot, a three-wheeled roadster available for rent from 220 Tours.
Experience Arts and Culture
Your getaway to Laughlin can also include some quality time perusing cultural institutions and sites.
For those looking for more modern artistry, there's the Florida D. Grecco Fine Art Gallery in the Laughlin Outlet Center. The space routinely features a variety of mediums, available for public viewing and to purchase. Or, take in the sights of Southern Nevada while exploring the Laughlin Labyrinths, a set of nine stone mazes a short ride from the destination's casino hub.
Laughlin Labyrinths
Automobile enthusiasts will certainly want to take a look at Don Laughlin's Classic Car Museum at Don Laughlin's Riverside Resort Hotel & Casino. The namesake of the destination is an avid collector, and this spot features over 80 spectacular pieces of automotive mastery.
Delicious Eats
The culinary options in Laughlin are vast and diverse, from breakfast joints to steak houses and everything in between.
If you're looking for a great breakfast spot that also offers lunch and dinner, Bumbleberry Flats at The New Pioneer is the place. Beyond pancakes and omelets, it offers classics like Chicken & Waffles and Country Fried Steak. There's also the Beach Café at Harrah's Laughlin Beach Resort & Casino, which serves breakfast in addition to an extensive menu of burgers, salads, sandwiches and more.
Carnivores have their pick of a number of places to carve into a prime cut, from the Saltgrass Steak House at Golden Nugget Laughlin, overlooking the river to The Range Steakhouse at Harrah's Laughlin Beach Resort & Casino and Stockman's Steakhouse at Edgewater Casino Resort.
Pizza is always a great option, especially if you're dining with a group. River Rock Pizza & Pasta at Aquarius Casino Resort will certainly have an Italian pie or dish for any taste.
If you're looking for variety in a menu, check out Claim Jumper at Golden Nugget Laughlin, which offers family-friendly American food with a western theme. The resort also features Bubba Gump Shrimp Co., which offers an extensive Southern-inspired menu of comfort food favorites.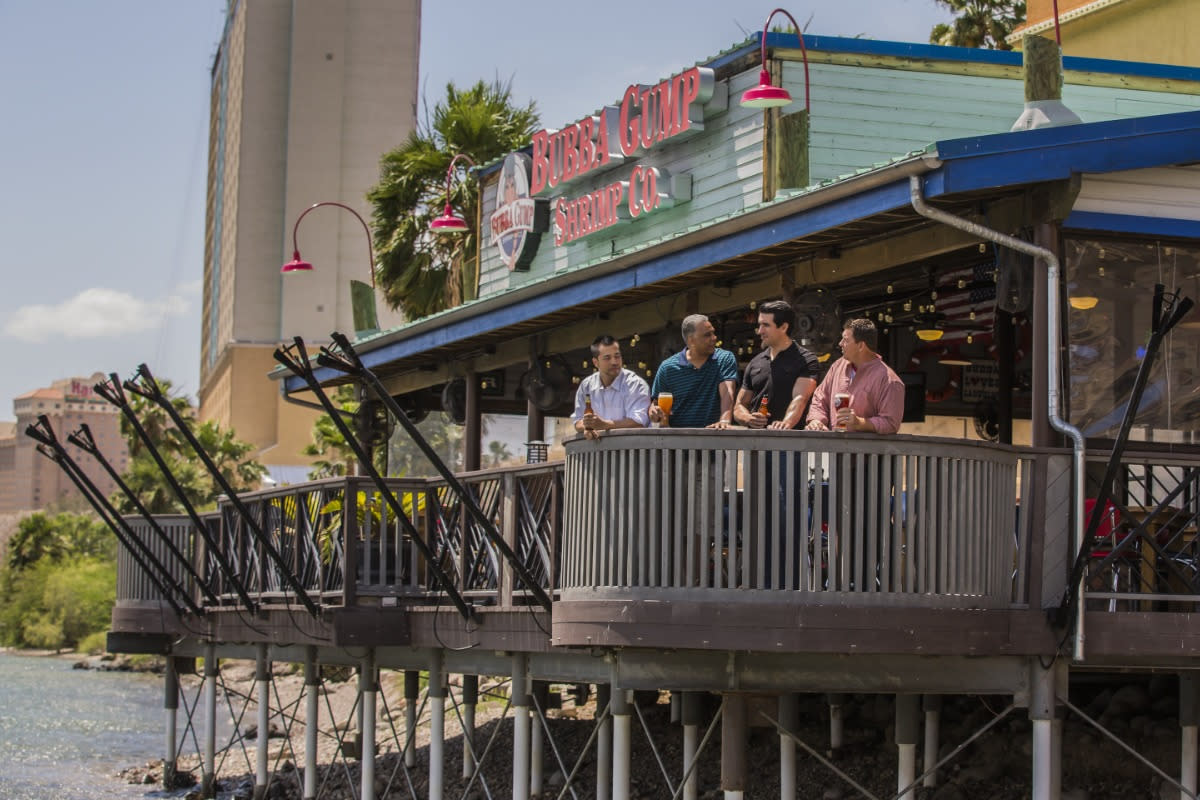 Bubba Gump Shrimp Co.
Enjoy the Nightlife
The party doesn't end at dinner in Laughlin, as the destination has a vibrant nightlife scene.
If you want to dance, head to Rush Lounge at Golden Nugget Laughlin, or Losers' Lounge at Don Laughlin's Riverside Resort Hotel & Casino. All three venues offer live entertainment that'll be playing some tracks perfect for busting out your very best move. Don't forget to check out The Gourmet Room Lounge at Don Laughlin's Riverside Resort Hotel & Casino. It's a perfect spot to grab a cocktail and enjoy the view of the Colorado River.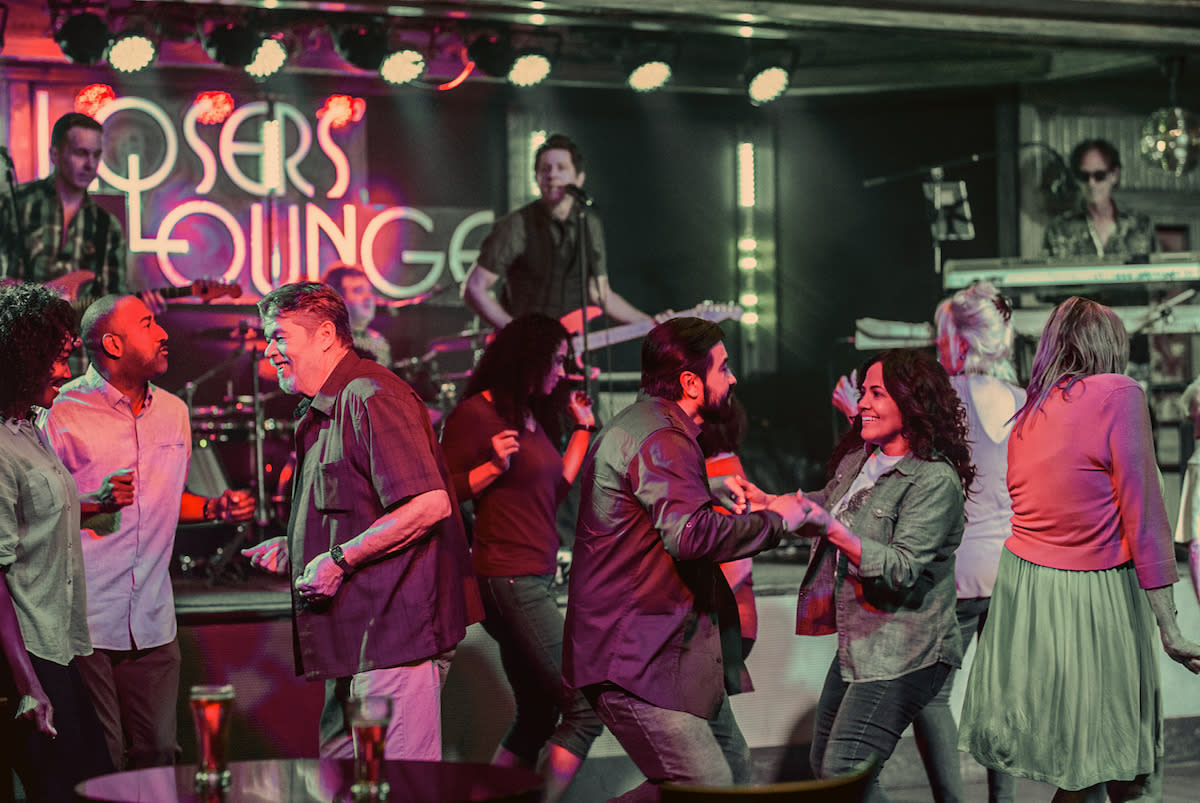 Losers' Lounge at Don Laughlin's Riverside Resort Hotel & Casino
Take in Some Exciting Entertainment
Some of the top acts — from comedians to country singers, pop stars and more — routinely roll through the destination. Laughlin events never disappoint. The destination is always going to have a top-notch show for you. Check out what's on tap for your upcoming getaway!
No matter what time of year you visit, there's always a reason to visit Laughlin. And as you plan out your trip, check out these deals and packages for your upcoming trip.