Now more than ever, Laughlin is the perfect place for outdoor adventure, exploration and fun! From river trips to hiking trails to picturesque golf courses, there are plenty of ways to get away in this exciting getaway destination. Here are 14 must-do alfresco activities that you can still enjoy while you're in town.
1. Hike the Colorado River Heritage Greenway Trail
The Colorado River Heritage Greenway Trail is the ideal place to get back to nature and hike in the idyllic desert wilderness. Explore the 10.5 miles of family-friendly trails that run alongside the Colorado River and take in the views of the Davis Dam. You're sure to spot a variety of wildlife along the way and be blown away by the unique scenery as you walk or cycle to your heart's content.
Restroom facilities, shade shelters and a pedestrian bridge are available for your convenience. Families with young children can also use the children's play area.
2. Explore Oatman Ghost Town
You'll feel like a time traveler as you explore the Oatman Ghost Town – a thriving gold-mining town up until the early 1940s. Tour buildings on the Historic Registry, witness a gunslingers' show on main street, browse the old-timey shops, and even see where Hollywood legends Clark Gable and Carole Lombard spent their wedding night. This is a real Wild West experience and fun for all ages!
3. Camp at Big Bend of the Colorado River
Camping at the Big Bend of the Colorado River is something you won't soon forget. The perfect escape from city life, simply pitch your tent or park your RV and start your outdoor adventure. Plus, be sure to make use of the picnic areas, the boat-ramp facilities, and the four miles of easy hiking trails through the beautiful Nevada canyons while you're there.
All camping units have water, electricity and sewage hookups, as well as a tent pad, a shade ramada, grill and fire pit.
4. Explore the Mystical Laughlin Labyrinths
Find your peaceful center while perusing the nine stone mazes of the Laughlin Labyrinths, which were created by Wes Dufek to help people along the journey of life. Equally intriguing and serene, surround yourself with Laughlin's beauty while pondering these artistic formations.
5. Tee off at Laughlin Ranch Golf Club
Visit Laughlin Ranch for a premier golf experience. Offering a complete package of top-class golfing facilities, spa services, a restaurant and clubhouse, teeing off here couldn't be more satisfying. With a backdrop of the Black Mountains, its 7,000-yard course – designed by the renowned David Druzisky – is breathtaking, and the fairways rise and fall, broken up by a meandering array of natural streams.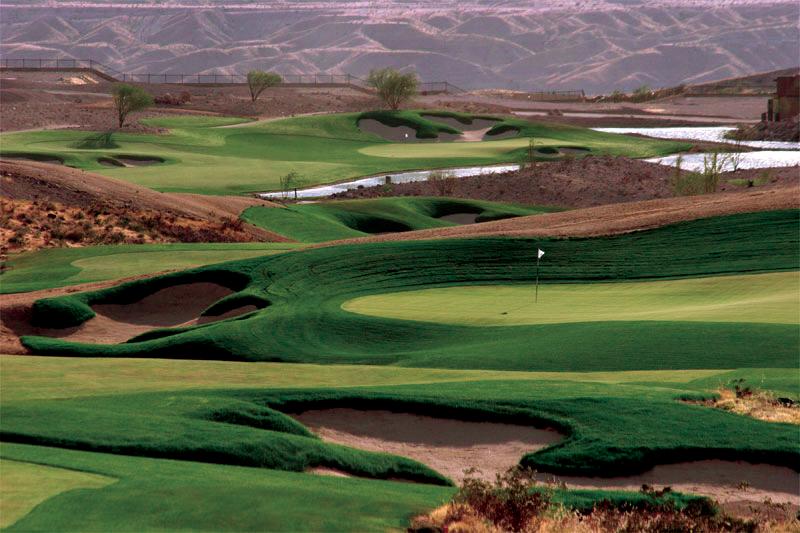 6. Make some waves with Watercraft Adventures
Watercraft Adventures promises thrills aplenty! Hire some high-quality watercraft equipment and take to the majestic Colorado River for a high-octane day of fun.
With four locations and serving all the major hotels in Laughlin, this is the local watercraft rental operator of choice. So rev up your engines and let's make some waves!
7. Explore the Mojave Desert at high speed
Adrenaline junkies have the option to traverse the wonders of the Mojave Desert with some serious horsepower. OUI Experience offers private, guided UTV excursions, expertly catered to you and your group. If you're into a smoother ride, rent Polaris Slingshots from 220 Tours for an attention-grabbing, self-drive experience with preloaded GPS tours.
8. Book a high-powered jet boat tour with London Bridge
No trip to Laughlin is complete without a jet boat tour along the Colorado River to the famous, old London Bridge (which traverses Lake Havasu).
Not only will you love the high-powered, 58-mile trip along the river, passing through Topock Gorge, and taking in views of volcanic rock faces and ancient Indian Petroglyphs, but you'll also get to spot a host of river birds and wildlife along the way.
9. Take a relaxing cruise on the USS Riverside
Hop aboard the USS Riverside for a captivating, guided tour of the Colorado River. Lasting about 1 hour and 20 minutes, you'll learn all about the area's history and geography on this great-value tour, while its shaded upper deck and climate-controlled lower deck mean plenty of space to relax out of the sun.
10. Swim at Lake Mohave
Boasting 200 miles of shoreline, and stunning coves and beaches, the beautiful Lake Mohave is not to be missed. Formed by the Davis Dam in Laughlin, the lake is abundant with wildlife and makes a picturesque place for a swim, as well as a wide variety of other outdoor adventures – from fishing to boating.
11. Stroll along the Riverwalk
Take a gentle stroll along the landscaped Colorado River Walk, enjoy the views, and watch the boats pass by. It's a great way to relax, get some fresh air, and take a break from the hustle of the city. Plus, wildlife lovers will enjoy spotting the variety of waterfowl, shorebirds, and plants and flowers that grow along the riverside.
12. Picnic riverside at Davis Dam
Davis Dam is an impressive feat of engineering that lies on the Colorado River, just north of Laughlin. Drive or take a short hike or bike ride (3.5 miles round trip) to the base of this staggering manmade structure and make a beeline for one of its scenic picnic ramadas. Here, you can hike, fish, or simply soak in the scenery once you've finished your feast.
13. Kayak on the Colorado River
Launching at Topock Gorge Marina, explore the unforgettable Havasu National Wildlife Refuge and Needles Wilderness Area on a kayaking trip with Desert River Outfitters. Ideal for intermediate-level kayakers, discover unspoiled coves and beaches, spot a wide variety of desert wildlife, and see the wilderness up close and personal.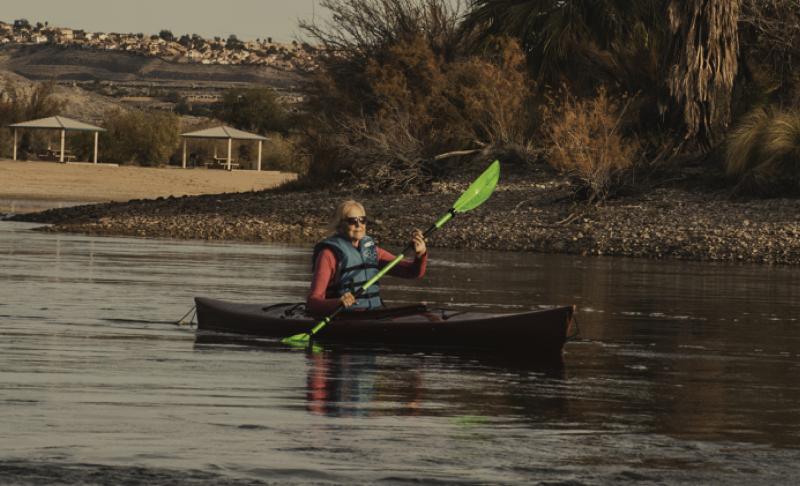 14. Enjoy a view of the Laughlin casinos by Water Taxi
Head up and down the Colorado River by River Passage Water Taxi, which makes stops at some of Laughlin's famous casinos. Simply buy a day pass, hop on at the casino docks, and turn an everyday taxi ride into an aquatic adventure! (Plus, with services running about every 15 minutes, you'll never have long to wait.)