For most people who visit Laughlin, at least one experience, if not more, involves water. Whether it's renting the latest watercraft to speed across waves, taking a boat tour or something else, the Colorado River can become a major part of any Laughlin trip.
There are also some uncommon and unique ways to enjoy the Colorado River that can create memories for a lifetime. Some are low-key, others slightly adventurous and all are very affordable, even free. On your next Laughlin trip, try these less-talked-about experiences on the Colorado River.
Walkers and joggers
There's nothing like taking in the Colorado early in the morning when much of the town is still waking up. Laughlin's Heritage Greenway Park and Trails is a welcomed light adventure for walkers and joggers who may be counting steps, sticking to their daily workout routines or simply taking in nature's beauty. Several miles of northern Colorado Riverfront offer a trail system with a wide range of walks and hikes and even some small fishing nodes. Davis Dam makes for another spectacular view and walkers and joggers alike can enjoy a trail that takes them over the top of it, enjoying views of the Colorado River on one side and Lake Mohave on the other.
Paddling experiences
Explore some of the crystal clear Colorado River and nearby lakes by kayak or canoe. It's the best way to take in some of the most majestic sites in the area. Allow canyon walls to dwarf you as you paddle at your own pace. Some of the area's historic and cultural sites, along with desert rock formations, found at Lake Mohave and Havasu will have you snapping photos and making memories. Paddling also allows you to take a tour of the Havasu National Wildlife Refuge. Desert River Outfitters is a go-to for renting equipment and educating you on the many paddling options available in the area.
A recreational hideaway
Only slightly off the beaten path, the Big Bend of the Colorado Recreation Area is about five miles south of Laughlin at the southern tip of Nevada. Another place for those into light adventure, swimming, boating, fishing or just a casual family picnic. There's also a 24-unit RV campground. It's a spot where you'll remember the casual day-time recreational play and an unforgettable sunset before snoozing under the stars.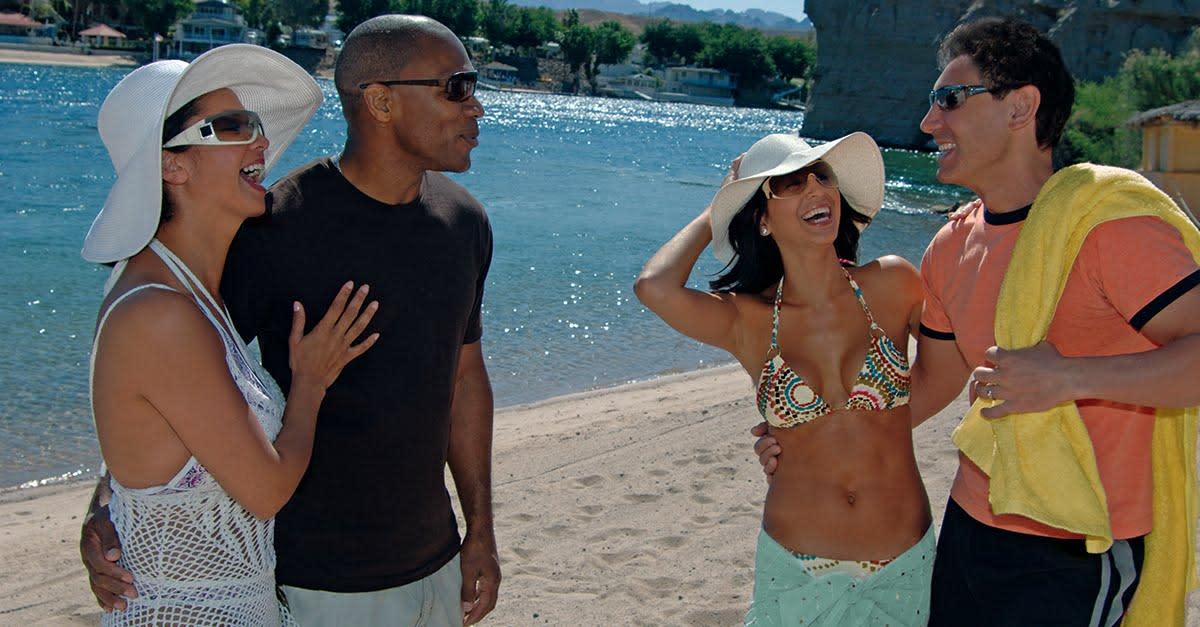 The view factor
On Casino Row, there is only one restaurant that offers dining directly on the River Walk itself, that's Bubba Gump Shrimp Co at the Golden Nugget Laughlin. There are also many other river view opportunities from a variety of hotel and resort locations along the Western banks of the Colorado. The Aquarius' resort pool is a favorite spot for river viewing as well as Harrah's Laughlin's sandy private beach. Guests also like to enjoy private poolside cabanas at the Aquarius, Golden Nugget and Harrah's while they watch the water play, sunsets, sunrises and serene power of the majestic Colorado.
Scuba adventure
Lake Mohave has more than 200 miles of shoreline with hundreds of coves and secluded areas, making it a fantastic spot for year-round scuba diving. Divers can enjoy a day of exploration and get instruction along with some of the best gear in the business from Dive Shack USA and Lake Mohave Scuba. Docks for water craft are controlled and boats are restricted in scuba diving areas, making it a safe, fun option for enjoying the area.