Home to eight quality casino resorts, offering a huge variety of top-quality accommodations, entertainment, and dining options all under one roof, there's no shortage of choice when it comes to great places to stay in Laughlin. Plus, with prices starting at less than $50 a night, they're a great value to boot.
From riverfront suites to memorable fine-dining to world-class live events, browse our guide to Laughlin's resort highlights and find your perfect vacation base.
1. Aquarius Casino Resort
Boasting a 57,000 square foot casino, close to 2,000 rooms – including 96 one- and two-bedroom suites; and a wide range of amenities – including a pool, fitness center, and huge selection of dining options; the Aquarius Casino Resort has all you'll need for a great stay in Laughlin. Plus, all of its spacious rooms and suites benefit from free wifi.
Dining Highlights
Enjoy Italian food, seafood and steaks at the Vineyard Ristorante; head to Windows on the River for an international menu, including a Mongolian grill; or make a beeline to The Cove for a lighter menu of appetizers and delicious pizza.
Entertainment Highlights
Don't miss Splash Lounge Night Club for big-screen sports events and live music most weekends; get up close and personal to some of the biggest names in entertainment at the 1,900 seater Aquarius Pavilion; or sip on old-fashioneds at The Cove, the only non-smoking cocktail lounge in Laughlin.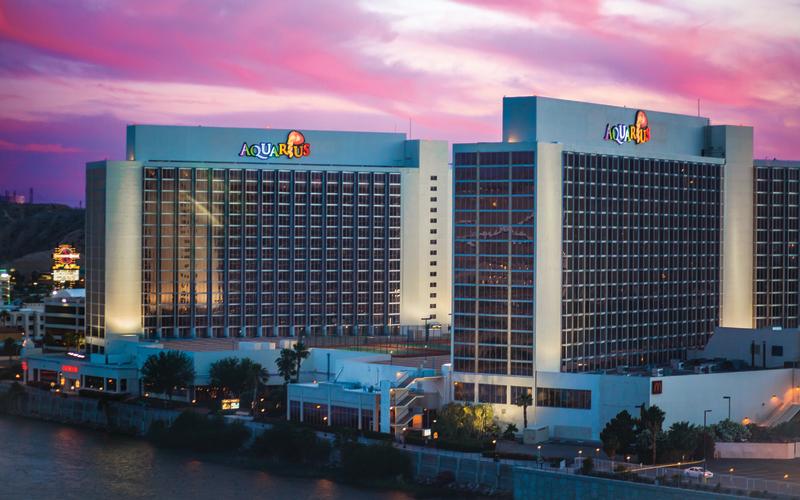 2. Don Laughlin's
Offering nearly 1,400 guest rooms split between two towers, as well as 740 full hook-ups in its RV Park, Don Laughlin's Riverside Resort has great accommodation options for every style and budget. Plus, its great range of family-friendly amenities onsite – including bowling, two pools, and a movie theatre – as well as direct access to river attractions, and a 76,000 square foot casino, makes it a hard base to leave. 
Dining Highlights
Home to a number of excellent restaurants – plus numerous fast food outlets and bars onsite – dine in the Gourmet Room for classic American cuisine; choose the Prime Rib Room for mouthwatering ribs; or head to the 24-hour Riverview Restaurant for a wide choice of family favorites, day or night.
Entertainment Highlights
Don't miss Riverside Lanes, a state-of-the-art bowling facility with 34 lanes and glow in the dark Cosmic Bowling; get ready to party at one of the Dance Club's regular weekly events; head to Don Laughlin's Classic Car Collection museum to browse more than 80 automobiles from different eras; or wind down at the spa while the kids explore Don's Kids Kastle.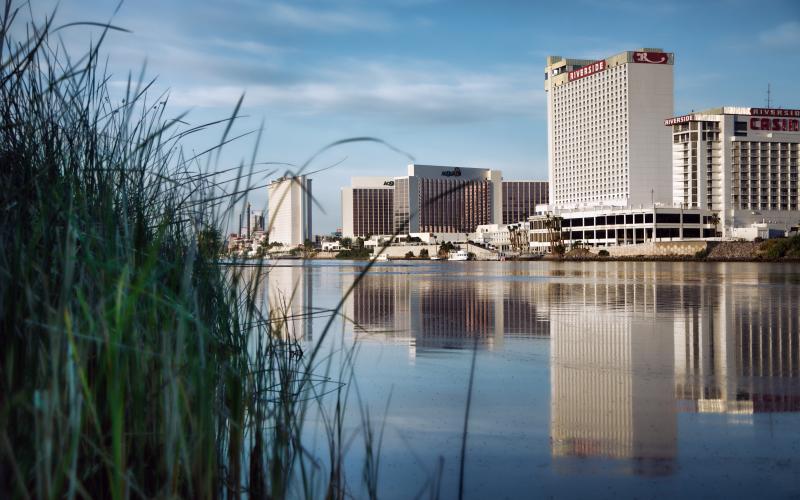 3. Edgewater Hotel and Casino
Located right at the center of Laughlin, on the West bank of the Colorado River, the Edgewater Hotel and Casino features more than 1,000 comfortable guest rooms, seven quality restaurants, free live entertainment, a huge casino, and a well-stocked gift shop. Plus, the full-service beauty salon and fitness room onsite will ensure you stay in tip-top condition during your stay. Be sure to request a room with a view of the river or mountain ranges to soak up the best of the surrounding landscape.
Dining Highlights
Don't miss the wonderful seafood and steak menu at the Hickory Pit Steakhouse; enjoy a blow-out feast at the Grand Buffet, open for breakfast, lunch and dinner; or go for delicious slices and handmade patties at Wild Style Burgers & Pizza – complete with a fabulous condiment bar that the kids will love.  
Entertainment Highlights
Laugh out loud at Comedy on the Edge, where some of the biggest names in stand-up perform each weekend; enjoy premier live entertainment and special events at The E Center, a first-class venue with a jam-packed upcoming schedule – featuring the likes of Willie Nelson and Terry Fator; or browse the line-up at the Laughlin Event Center, where past headliners include Dolly Parton, Kid Rock, and Carrie Underwood!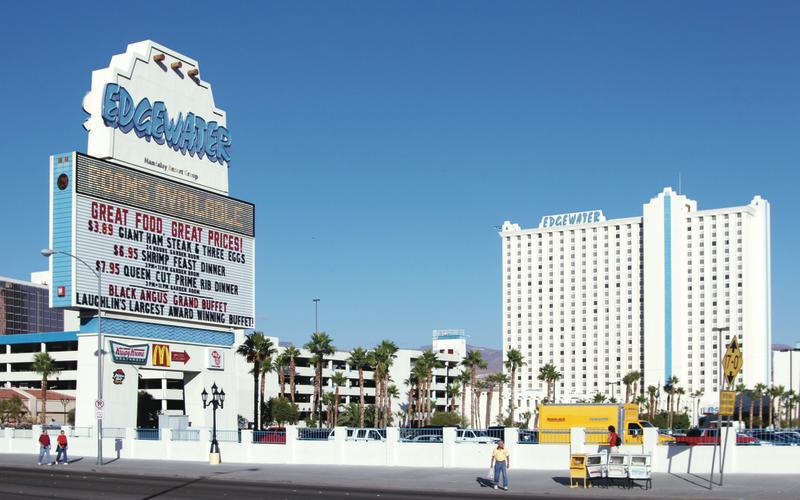 4. Harrah's Laughlin
Boasting 1,500 south-of-the-border style rooms and 170 suites, all with spectacular views, a stay at Harrah's doesn't disappoint. Its non-smoking casino and a guests-only soft sand beach are unique in Laughlin; while its entertainment venues, pools, day spa, and dining options are among the best in town. Plus, book a special Golf Package and enjoy teeing off at the award-winning Laughlin Ranch Golf Club championship course – just minutes away from the resort.
Dining Highlights
Book a table at The Range for a delightful steakhouse menu and breathtaking riverside views; head to Guy Fieri's casual El Burro Borracho for south-of-the-border classics with a twist; or find the best patties in town at Smashburger, a truly mouthwatering American-style treat.
Entertainment
Boasting some of the best shows, concerts, and entertainment in Laughlin; look out for Harrah's popular Summer Concert Series; take a seat in The Range Bar for handcrafted cocktails in the resort's non-smoking casino; sip beers poolside at the Cancun Lagoon bar; or join the crowd at Chances for big-screen sports and video poker.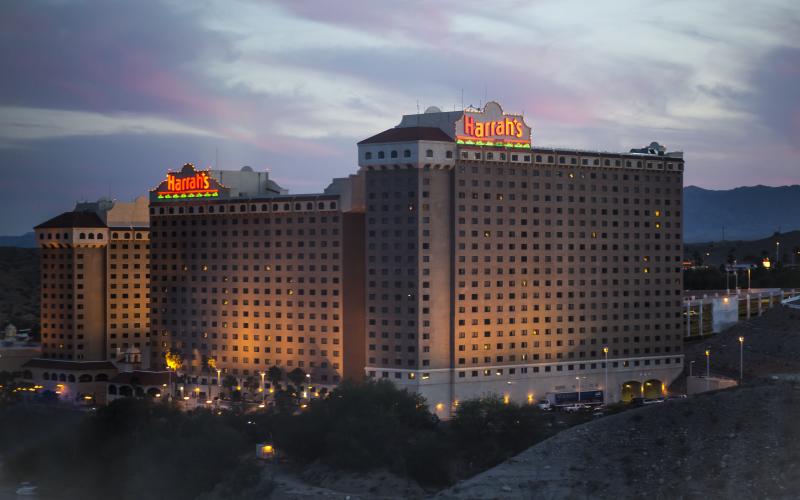 5. Golden Nugget
For laid-back fun on the banks of the Colorado River, book into one of the stylish rooms or suites at the Golden Nugget Hotel. Smaller than other Laughlin resorts, its amenities are no less impressive, thanks to its state-of-the-art, award-winning casino; beautiful riverside pool with luxury cabanas; world-class DJ nights; and an incredible selection of top-rated restaurants. Plus, each of its 300 rooms comes with flat-screen TVs, free wifi, and a choice of stunning views.
Dining Highlights
Take a seat at the award-winning Saltgrass Steakhouse for gourmet dishes of certified Angus beef; dine at well-known southern-style shrimp restaurant, Bubba Gump, for delicious seafood eats; enjoy New York-style sandwiches round-the-clock at The Deli, open 24 hours a day; or feast on American family-favorites at the Claim Jumper.
Entertainment Highlights
Enjoy a number of live concerts, shows and comedy nights at the Golden Nugget's various onsite venues; dress to impress at Gold Diggers nightclub – one of the best nightlife spots in Laughlin, thanks to its top DJs and hip cocktails; or simply bask in the sun next to the expansive outdoor pool.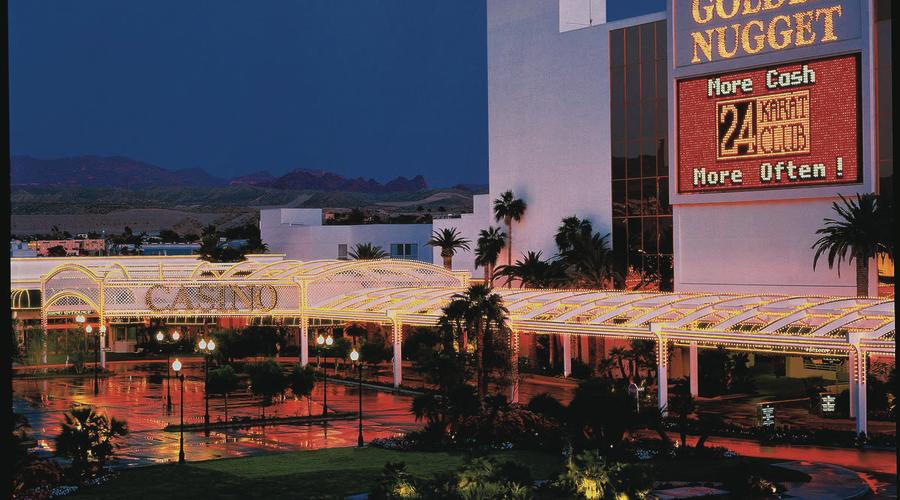 6. Laughlin River Lodge
The newly-renovated Laughlin River Lodge makes for one of the most stylish bases in town; boasting upgraded riverside rooms, two casino floors with brand-new gaming machines; several top-quality bars and restaurants; and a range of state-of-the-art spa and fitness amenities. Plus, a free welcome snack basket for every guest is sure to get your vacation off to a great start!
Dining Highlights
Head to The Lodge Buffet for a tasty all-you-can-eat selection of breakfast and dinner favorites; or enjoy a laidback meal at the scenic Bighorn Cafe, complete with a handcrafted cocktail menu, full wine list, beautiful river and mountain views, and food service 24 hours a day.
Entertainment
As well as billiards, an impressive range of 480 innovative casino games and; make the most of the weekly live music line-up at the intimate bar inside Big Hon Cafe, where you can catch everything from jazz to country by some of the best local performers.
7. Tropicana
Complete with 1,500 rooms with two high res towers, VIP check-in area, award-winning dining, and renowned onsite nightclub, the Tropicana Laughlin makes the perfect base for mature travelers. Check into one of its beautiful, updated contemporary rooms; take your pick from its mouth-watering selection of onsite restaurants, and be sure to make the most of its live entertainment schedule – from music to DJs to comedy.
Dining Highlights
Tuck into delicious pizza, three-cheese lasagna, and more at the Passaggio Italian Gardens; build your own burger at Carnegie's Cafe; enjoy an award-winning meal with full wine list at The Steakhouse; or indulge in chili dogs and ice cream at Dips & Dogs.
Entertainment Highlights
Dance the night away at Tango's Lounge, home to a state-of-the-art sound system and free live music each evening; save your seats in the 9000 sq. foot Pavilion Theater, an indoor marquis hosting big-name comedians, tribute shows, and more; or pair your favorite cocktail with video poker at the High Limit Bar. 
8. The New Pioneer Casino Hotel
Set right on the banks of the Colorado River, if it's old west-themed accommodation you're looking for, the Pioneer Gambling Hall won't disappoint. Plus, with just 400 rooms and 28 suites, this small hotel resort has a homey feel, yet still boasts all the amenities you'll need to enjoy your stay; from its pool, Jacuzzi and beach area, to its popular onsite restaurant, Bumbleberry Flats, to its generous selection of casino machines and live-action table games.
Dining Highlights
Feast on classic American food with a Southern twist at the Pioneer's popular Bumbleberry Flats restaurant, one of the top-rated eateries in Laughlin.
Entertainment Highlights
Although there are no entertainment venues onsite, a range of Laughlin nightlife lies just a short stroll away from Pioneer. Alternatively, simply relax by the pool, chill out in the Jacuzzi, or enjoy exploring the landscaped grounds and sandy beach area.