Home to eight quality casino resorts, offering a huge variety of top-quality accommodations and dining options all under one roof, there's no shortage of choice when it comes to great places to stay in Laughlin. Plus, with prices starting at less than $50 a night, they're a great value to boot.
From riverfront suites to memorable fine-dining, browse our guide to Laughlin's resort highlights and find your perfect vacation base.
1. Aquarius Casino Resort
Boasting a 57,000 square foot casino, close to 2,000 rooms – including 96 one- and two-bedroom suites; and a wide range of amenities – including a pool, fitness center, and huge selection of dining options; the Aquarius Casino Resort has all you'll need for a great stay in Laughlin. Plus, all of its spacious rooms and suites benefit from free wifi.
Dining Highlights
Head to Outback Steakhouse for a delicious steak menu; or take it easy at Duet Coffee and Wine, from espressos to a nice red, Duet has a drink for everyone to enjoy.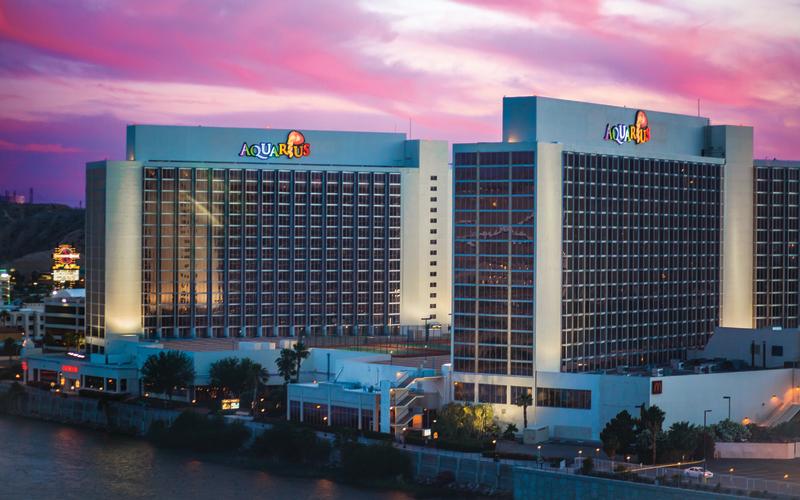 2. Don Laughlin's
Offering nearly 1,400 guest rooms split between two towers, as well as 740 full hook-ups in its RV Park, Don Laughlin's Riverside Resort has great accommodation options for every style and budget. Plus, its great range of family-friendly amenities onsite – including bowling, two pools, and a movie theatre – as well as direct access to river attractions, and a 76,000 square foot casino, makes it a hard base to leave. 
Dining Highlights
Home to a number of excellent restaurants – plus numerous fast food outlets and bars onsite – dine in the Gourmet Room for classic American cuisine; choose the Prime Rib Room for mouthwatering ribs; or head to the 24-hour Riverview Restaurant for a wide choice of family favorites, day or night.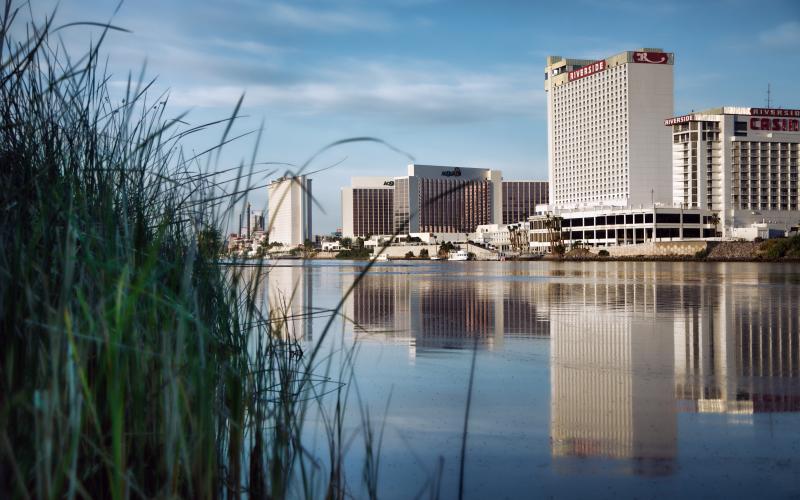 3. Edgewater Hotel and Casino
Located right at the center of Laughlin, on the West bank of the Colorado River, the Edgewater Hotel and Casino features more than 1,000 comfortable guest rooms, four quality restaurants, a huge casino, and a well-stocked gift shop. Be sure to request a room with a view of the river or mountain ranges to soak up the best of the surrounding landscape.
Dining Highlights
Don't miss the wonderful seafood and steak menu at the Stockman's Steakhouse; Denny's all-American selection with their signature slams, burgers, skillets and everyday values; or go for award-winning chicken wings, pretzel bites, and nachos at PT's Express.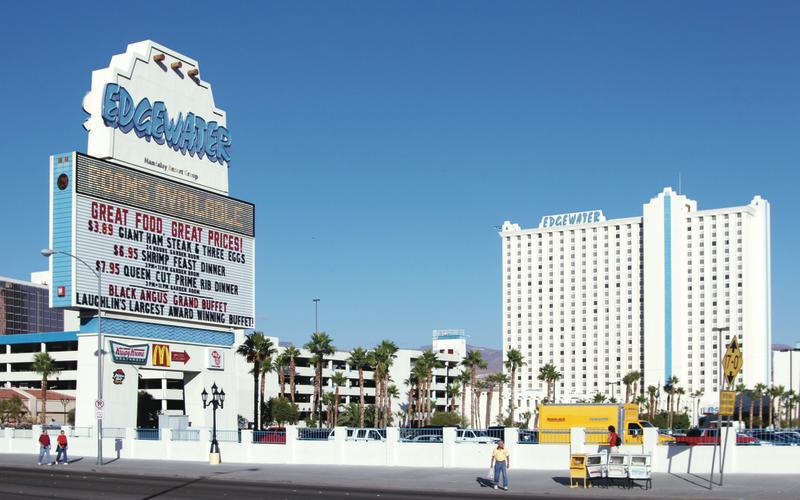 4. Harrah's Laughlin
Boasting 1,500 south-of-the-border style rooms and 170 suites, all with spectacular views, a stay at Harrah's doesn't disappoint. Its non-smoking casino and a guests-only soft sand beach are unique in Laughlin; while its entertainment venues, pools, day spa, and dining options are among the best in town. Plus, book a special Golf Package and enjoy teeing off at the award-winning Laughlin Ranch Golf Club championship course – just minutes away from the resort.
Dining Highlights
Book a table at The Range for a delightful steakhouse menu and breathtaking riverside views; head to Guy Fieri's casual El Burro Borracho for south-of-the-border classics with a twist; or find the best patties in town at Smashburger, a truly mouthwatering American-style treat.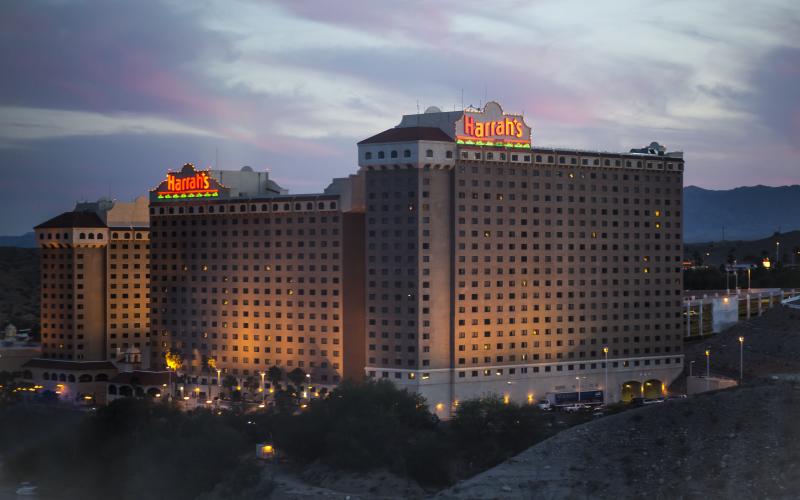 5. Golden Nugget
For laid-back fun on the banks of the Colorado River, book into one of the stylish rooms or suites at the Golden Nugget Hotel. Smaller than other Laughlin resorts, its amenities are no less impressive, thanks to its state-of-the-art, award-winning casino; beautiful riverside pool with luxury cabanas; world-class DJ nights; and an incredible selection of top-rated restaurants. Plus, each of its 300 rooms comes with flat-screen TVs, free wifi, and a choice of stunning views.
Dining Highlights
Take a seat at the award-winning Saltgrass Steakhouse for gourmet dishes of certified Angus beef; dine at well-known southern-style shrimp restaurant, Bubba Gump, for delicious seafood eats; enjoy New York-style sandwiches round-the-clock at The Deli, open 24 hours a day; or feast on American family-favorites at the Claim Jumper.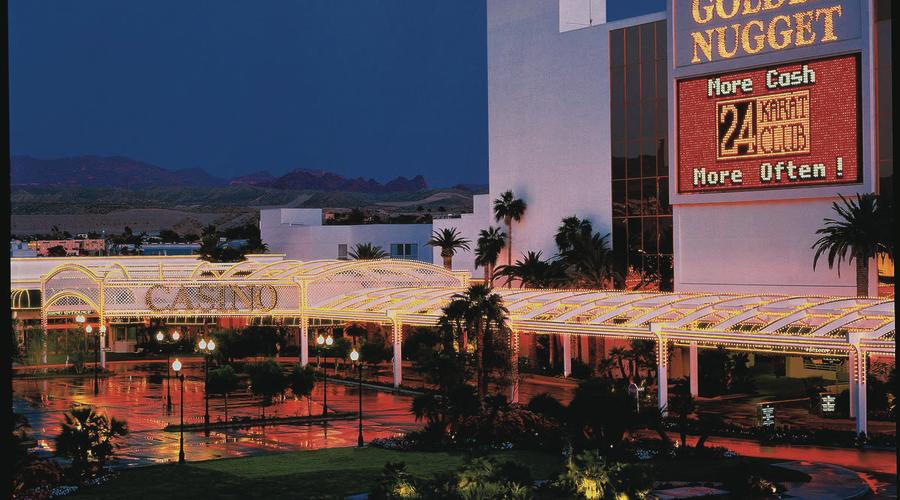 6. Laughlin River Lodge
The newly-renovated Laughlin River Lodge makes for one of the most stylish bases in town; boasting upgraded riverside rooms, two casino floors with brand-new gaming machines; and several top-quality bars and restaurants. Plus, a free welcome snack basket for every guest is sure to get your vacation off to a great start!
Dining Highlights
Enjoy a laidback meal at the scenic Bighorn Cafe, complete with a handcrafted cocktail menu, full wine list, beautiful river and mountain views, and food service 24 hours a day.
7. Tropicana
Complete with 1,500 rooms with two high rise towers, VIP check-in area, award-winning dining, and renowned onsite nightclub, the Tropicana Laughlin makes the perfect base for mature travelers. Check into one of its beautiful, updated contemporary rooms; take your pick from its mouth-watering selection of onsite restaurants, and be sure to make the most of its live entertainment schedule – from music to DJs to comedy.
Dining Highlights
The Brew Brothers Tap House features a creative menu with burgers, salads and appetizers; enjoy a satisfying meal for breakfast, lunch or dinner at  Carnegie's Cafe; if you're on the go, grab a bagel, frozen yogurt, or overstuffed sandwich from Poolside Café .
8. The New Pioneer Casino Hotel
Set right on the banks of the Colorado River, if it's old west-themed accommodation you're looking for, the Pioneer Gambling Hall won't disappoint. Plus, with just 400 rooms and 28 suites, this small hotel resort has a homey feel, yet still boasts all the amenities you'll need to enjoy your stay; from its popular onsite restaurant, Bumbleberry Flats, to its generous selection of casino machines and live-action table games.
Dining Highlights
Feast on classic American food with a Southern twist at the Pioneer's popular Bumbleberry Flats restaurant, one of the top-rated eateries in Laughlin.