A fall trip to Laughlin, Nevada, promises pleasant temperatures, an assortment of outdoor activities and an exciting entertainment lineup. Whether you're looking for relaxation or recreation, it's an ideal way to enjoy the fall season! 
With so many activities to experience – both on and off the water – it's easy to plan a fall weekend in Laughlin. Here's some getaway inspiration! 
Water Activities 
Surrounded by the beauty of the Mojave Desert, Laughlin is located on the scenic Colorado River and offers a myriad of incredible things to do on the river itself!  
Discover the Colorado Rivers assortment of fish species below Davis Dam, which offers maintained riverbanks, stunning views and a tranquil landscape. If you don't have any gear with you, don't fret – rentals are available in the area! And be sure to secure any fishing permits you'll need before casting a line at the peaceful oasis. 

Sit back and enjoy the picturesque scenery with London Bridge Jet Boat Tours, which offers excursions through Thanksgiving. The round-trip ride travels 58 miles down the Colorado River through Topock Gorge, an area only accessible by water that features views of volcanic rock faces, desert wildlife and Native American petroglyphs. You'll dock for a two-hour layover at the historic London Bridge in Lake Havasu City, Arizona, where you can do some shopping and enjoy a bite to eat!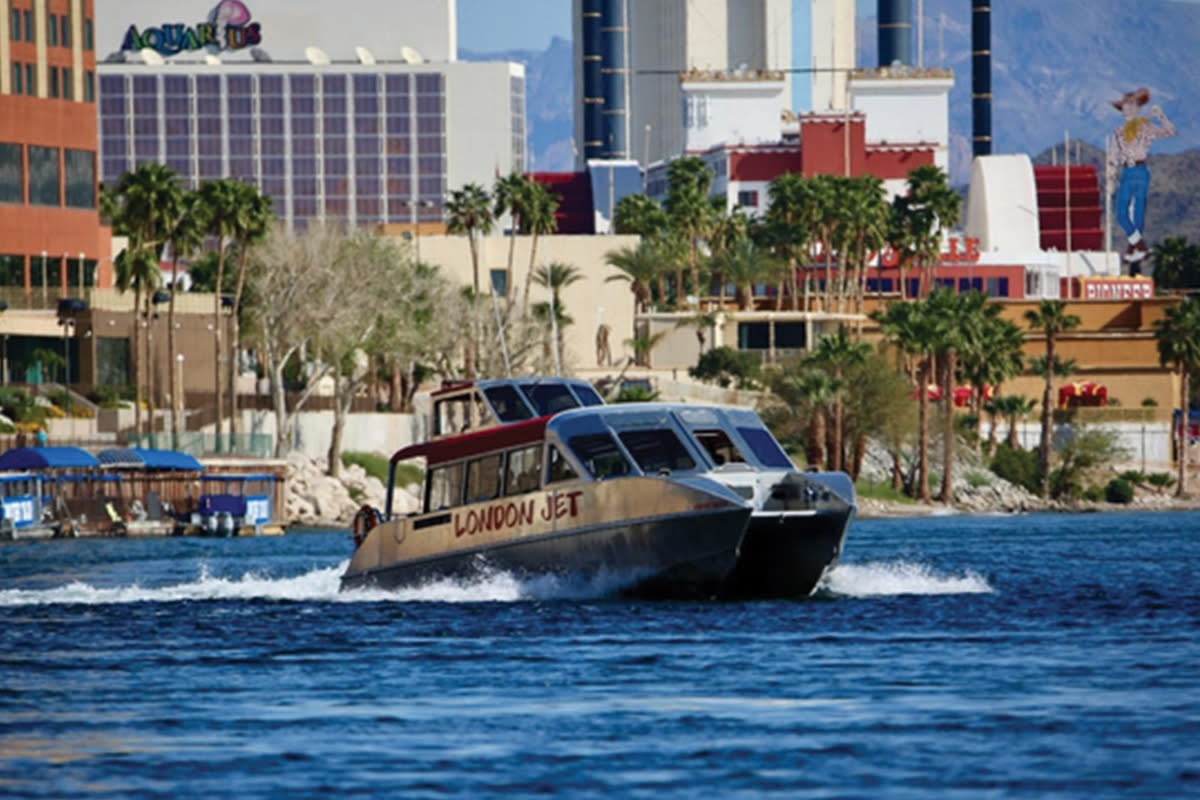 London Bridge Jet Boat Tours
If you prefer a slower adventure, Desert River Outfitters offers self-guided canoe and kayak tours around the lower Colorado River. The company's Hoover Dam Kayak & Canoe Trip lets you see the historic engineering marvel up close, while the Emerald Cave Kayak Tour takes you to a natural wonder where the water appears to be a glistening green.  

While Laughlin has several top-notch restaurants (more on those later), only one floats down the Colorado River! Laughlin River Tours' Sunset Dinner Cruise offers a three-course meal and full-service bar aboard the air-conditioned Grand Celebration. The two-hour trip, which takes off from Aquarius Casino Resort, is great for couples, groups of friends or the whole family. 
Land Activities
Laughlin offers an incredible assortment of things to do whether you're looking for a relaxing walk or a full-on adventure, there's something for everyone!  
Whether you're an automobile enthusiast or not, Don Laughlin's Classic Car Museum at Don Laughlin's Riverside Resort is a fun way to take a look back in time. The exhibit features over 80 distinctive automobiles, with the museum rotating its collection of antique, classic and unique models. The attraction offers admission so stop by to see the desert racing machines on display! 

Get acquainted with the area's flora and fauna during a leisurely walk at Colorado River Heritage Greenway Park and Trails. From the expansion of the Laughlin Riverwalk all the way to Davis Dam, there are over nine miles to explore.
Take in the desert landscape while working your way through eight stone mazes at the Laughlin Labyrinths. Just a short walk from the resorts (and maybe a ride on the convenient water taxis for some), the labyrinths range from 25 to 50 feet in diameter and offer elevated views of the glittering river and towering resorts. Consider going at the golden hour for great photo ops and stick around to watch a breathtaking Southern Nevada sunset! 
Laughlin Labyrinths
Hit the links at Laughlin Ranch Golf Club! The 18-hole championship course offers panoramic views of the Colorado River and the surrounding desert landscape. If you'd rather be pampered, opt for a day at the club's spa and salon. Whatever you do, hit The Ranch Bar & Grill afterward for 19th hole cocktails or a post-spa sipper. 
Tours/Day Trips 
Laughlin is located in the midst of several historic sites and national parks, offering visitors a long list of sightseeing opportunities. 
Let Laughlin Tours, LLC do the legwork for you, as the company offers planned adventures throughout the area. Enjoy a tour to Kingman, Arizona, which features a wine and mead tasting and a distillery and brewery tour with lunch. Other tours explore attractions like the Grand Canyon and Hoover Dam. 

If you have a need for (legal) speed, 220 Tours has a fleet of premium Polaris Slingshots that you can rent. Zip up and down the area's roads, all while winding through canyons and taking in views of the surrounding landscape. Available for rental year-round, the outfitter also offers suggested itineraries to make the most of this unique sightseeing experience.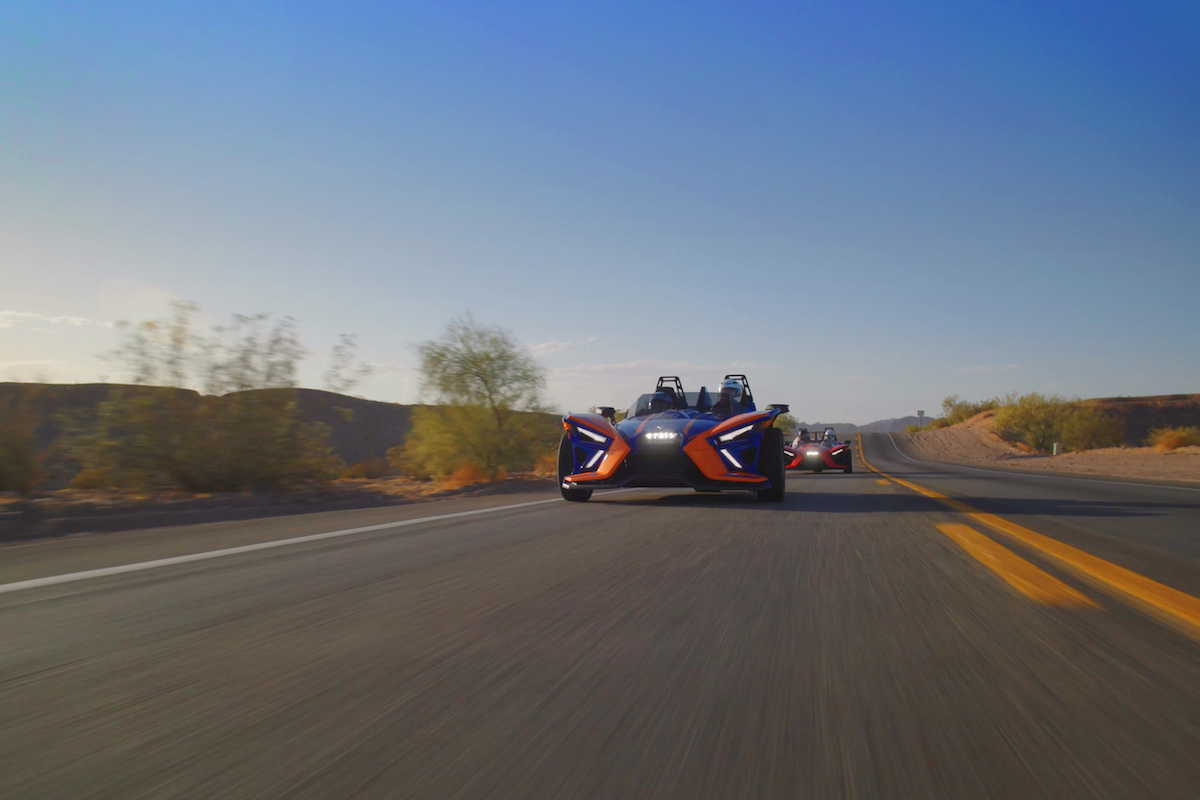 Polaris Slingshots
Just a 45-minute drive away, the town of Oatman keeps the Wild West alive with staged gunfights, wooden sidewalks and free-roaming burros. Experience the frontier days on the city's vibrant Main Street, which is filled with boutiques and eateries. The once-booming gold-mining center is also a popular spot on the iconic Route 66, offering another slice of Americana to explore. 

Be your own navigator during a scenic drive through Christmas Tree Pass. You can see the Colorado River valley from the 12-mile route, which is a gravel road navigable by most vehicles, however one with more clearance is best for potential ruts or washes. The road passes a trail featuring Native American petroglyphs and leads to the trailhead of a wilderness area at Lake Mead National Recreation Area. 
Concerts/Shows 
Laughlin's fall shows and events itinerary is stacked with headliner performances and on-going entertainment options. All you need to decide is who you are going to see!  
Boozy humor meets impressive street magic at L.A. Comedy Club at Edgewater Casino Resort's Edge Lounge, where James Michael's Redneck Comedy Magic Show plays every Wednesday through Sunday until the end of the year. The hotel will also host celebrity psychic Matt Fraser at its Edge Pavilion on Nov. 25, offering visitors the chance to see the medium connect audience members with their loved ones on the other side. 

Sing along to some living legends this season with thousands of other fans at the Laughlin Event Center, a massive outdoor venue with views of the illuminated cityscape and surrounding purple mountain's majesty. Country singer Tim McGraw takes its stage on Oct. 21, followed by pop-rock vocalist Rod Stewart on Nov. 3. Get those tickets now!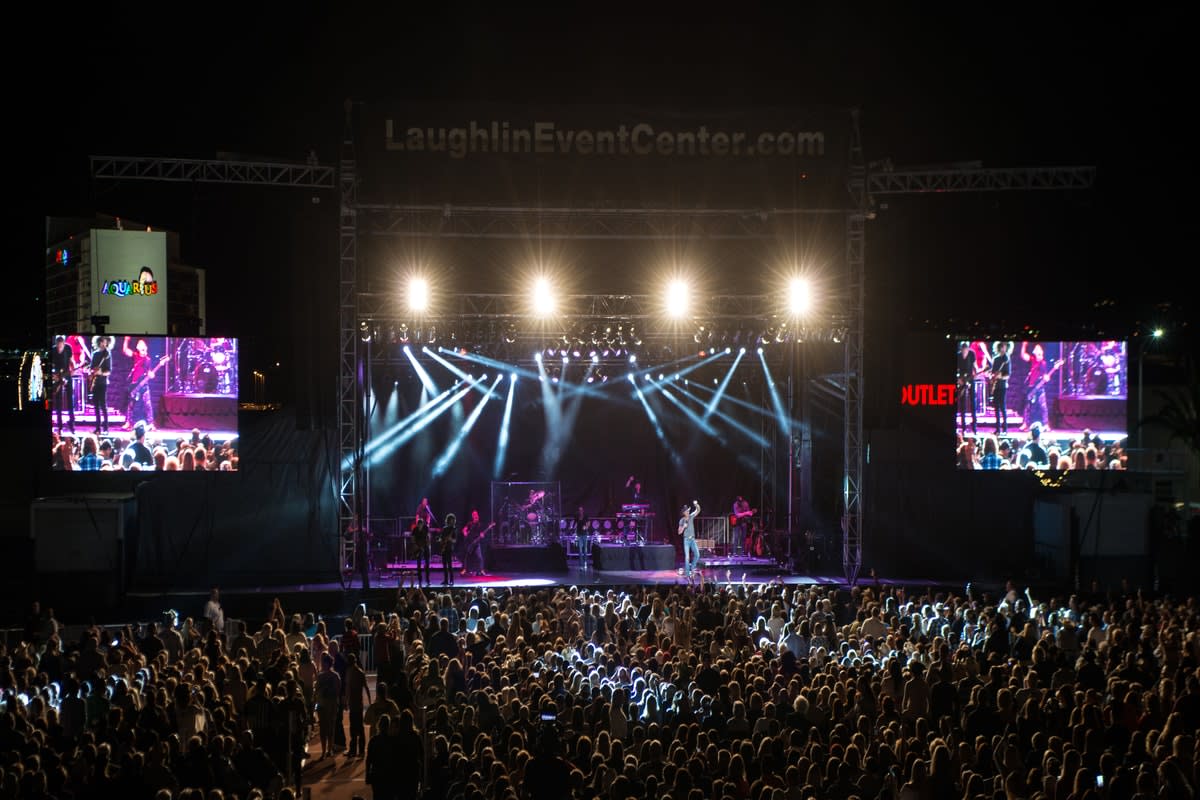 Laughlin Event Center
Don's Celebrity Theatre at Don Laughlin's Riverside Resort welcomes country star Aaron Tippin, who brings his powerhouse pipes on Nov. 9–12. 

If you want some solid laughs and tunes, Stephen Lynch is set to play the Pavilion Theater at Tropicana Laughlin on Oct. 6. Known for his hilarious takes on pop culture and daily life, the comedian blends comedy into his original songs. It's sure to be a knee-slapping show! 
Dining
From fine to casual dining, there's something to satisfy any palate in the destination. Take in views of the river as you enjoy a relaxing date night or enjoy a delicious meal al fresco. Here's a few suggestions of where to eat in Laughlin.  
There's Range Steakhouse at Harrah's Laughlin Beach Resort & Casino and Saltgrass Steak House at Golden Nugget Laughlin – both offer prime cuts, fresh catches and views of the mighty Colorado. Additionally, The Gourmet Room at Don Laughlin's Riverside Resort offers spectacular views of the river accompanied by delicious French and Italian fare.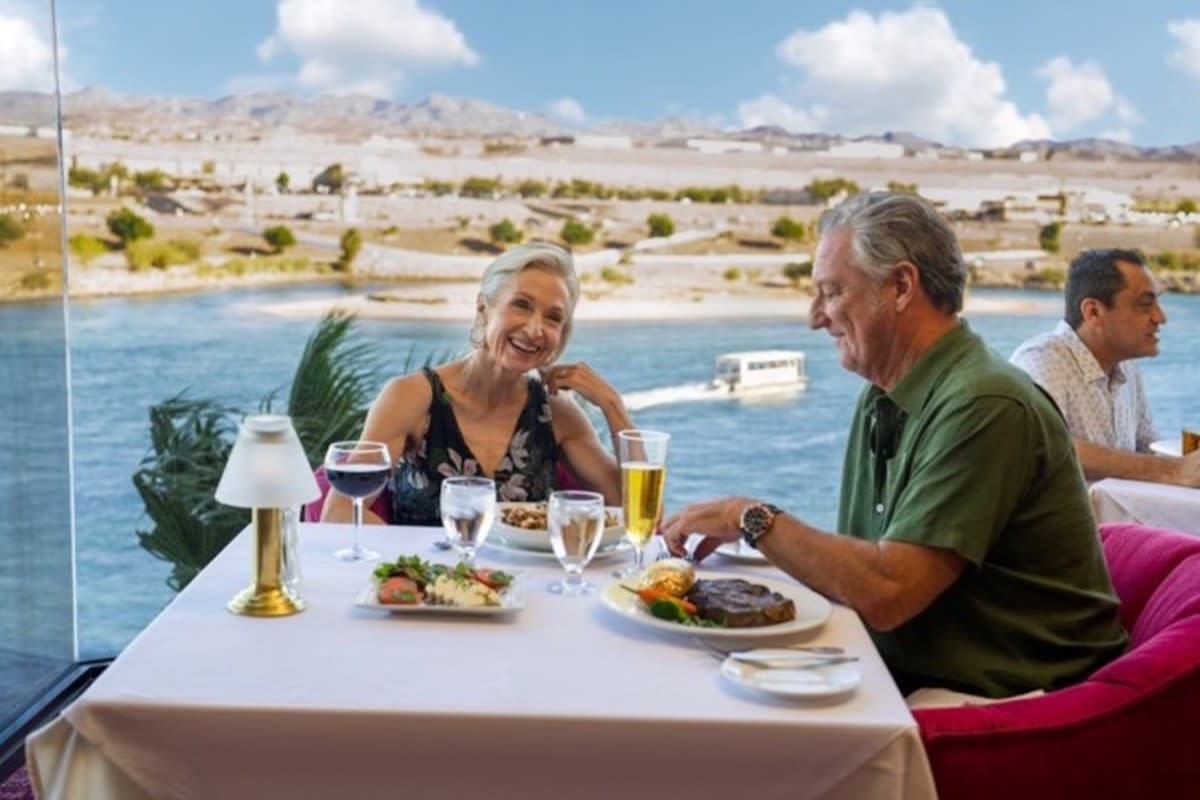 The Gourmet Room at Don Laughlin's Riverside Resort
Bighorn Cafe at Laughlin River Lodge serves everything from breakfast to burgers in a cozy, cabin-inspired space, while Bumbleberry Flats at The New Pioneer offers American comfort foods morning to night – including a brunch buffet on the weekend! Or, at River Rock Pizza & Pasta at Aquarius Casino Resort, discover some Italian classics.  
A getaway to this dynamic destination is exactly what you need this fall. There's an abundance of exciting and interesting things to do in Laughlin. Take a look at deals and package offerings and if you only have a short amount of time to visit, browse the must-do's while here.